Geographic location
Lying in China's western inland area, on the upper reaches of the Yellow River, Gansu Province borders Shaanxi Province in the east, the Ningxia Hui Autonomous Region in the northeast, Qinghai Province and the Xinjiang Uygur Autonomous Region in the west, and the Inner Mongolia Autonomous Region and the People's Republic of Mongolia in the north

Topography:
Elevation: 1,000-3,000 meters.
Natural resources
Land
Gansu features a land area of 455,000 square kilometers, including 3.53 million hectares of cultivated land or 0.14 hectare per capita, 16.64 million hectares of grassland, and 4.26 million hectares of forests with a standing timber reserve of 200 million cubic meters. In addition, there are 1 million hectares of wasteland suitable for agriculture, 6.66 million hectares of wasteland suitable for forestation, and 4.67 million hectares of mountain slopes suitable for livestock breeding.
Minerals
Nearly 3,000 deposits of 145 kinds of minerals have been found and the reserves of 94 kinds of minerals have been ascertained, including nickel, cobalt, platinum family elements, selenium, casting clay, finishing serpentine, and five other minerals whose reserves are the largest in the country. Gansu has special advantages in tapping 15 kinds of minerals such as nickel, zinc, cobalt, platinum, iridium, copper, stibium, barite, and baudisserite.
Energy
The water resources in Gansu are mainly distributed in nine river systems in the Yellow, Yangtze, and inland river drainage basins with an annual discharge of 61.4 billion cubic meters and a combined hydropower potential of 17.24 million kw. Gansu places ninth among China's provinces and autonomous regions in terms of hydropower potential. To date, 29 hydropower stations have been constructed in the province with an installed generating capacity of 30 million kw and an annual output of 23.565 billion kwh. The Liujiaxia, Yanguoxia, and Bapanxia hydropower stations on the upper reaches of the Yellow River and the Bikou Hydropower Station on the Bailong River have a total installed capacity of 2.125 million kw. The proved reserves of coal are 8.92 billion tons, and those of petroleum, between 600 and 700 million tons. There is also a considerable potential for the development of wind and solar energies.
Animals and plants
There are 659 species of wild animals, including the giant panda, snub-nosed monkey, antelope, snow leopard, deer, fawn, musk deer, bactrian (two-humped) camel, and 24 other first-class rare animals under state protection, and 441 species of birds in Gansu Province. There are over 4,000 species of wild plants including 951 species of medical value. Among the plants of medical value, 450 species, such as angelica root, rhubarb, hairy asiabell root, licorice root, fritillary bulb, mariajuana, the bark of eucommia, glossy ganoderma, and Chinese caterpillar fungus, have been developed. Gansu holds second place among China's provinces and autonomous regions in the variety of medicinal herbs.
Environment and current issues
By the end of 2003, two of the province¡¯s cities met the state second-grade air quality standard, compared with none in the previous year. Meanwhile a further five cities reached third-grade standard, two more than the year before.
Just 7 percent of the province¡¯s cities suffered from severe noise-pollutions, 14 percentage points lower than the previous year.
A total of 43 smog-control zones had been established, four more than at the previous year end. Together they cover an area of some 398 square km (up 17.8 percent in the year).
Forty-six zones meeting the noise-control criteria had been set up, one more than the year before and accounting for an area of some 242 square km (up 1.2 percent).
There were 47 nature reserves across the province with the eight now designated at national level representing an increase of two in the year. At 8,358,400 hectares, nature reserves account for 19.63 percent of the total area of Gansu Province.
Monitoring of surface water quality showed minimum criteria being met as follows: 50.00 percent reached Class III standards (up 19.97 percent), 71.81 percent reached Class IV (up 13.19 percent) and 73.43 percent reached Class V (up 4.46 percent). Viewed another way just 26.57 percent failed to satisfy the minimum standards of Class V.
Population
At the end of 2003, Gansu had a total population of some 26,033,400. The population grew by 6.12 percent in 2003.
The year saw 327,200 births, with a crude birth rate of 12.58 per thousand (down 0.058 percent on the previous year) and a crude death rate of 6.46 per thousand (up just 0.001 percent).
Natural population growth was 159,200 in the year representing a growth rate of 6.12 per thousand (down 0.059 percent). About 51.75 percent of the population or 13,472,300 were male while there were 12,561,100 female.
There were 6,224,600 persons in the age group 0-14, accounting for 23.91 percent of the total population (down 1.04 percent). There were 18,239,000 in the age group 15-64, accounting for 70.06 percent (up 0.75 percent). There were 1,569,800 in the age group 65 and over, accounting for 6.03 percent (up 0.29 percent).
There were 7,127,900 urban residents, accounting for 27.38 percent of the total population (up 1.42 percent) and 18,905,500 rural residents, accounting for 72.62 percent.
Ethnicity
Gansu is home to some 20.52 million Han people (91.7 percent of the population) together with 1.86 million people of ethnic minority groups (8.3 percent). Those minority groups with a population of more than 1,000 are the Hui, Tibetan, Dongxiang, Tu, Manchu, Yugur, Bonan, Mongolian, Salar, and Kazak.
Education
In 2003, general universities in the province enrolled some 173,400 undergraduates (up 21.26 percent on the previous year) including 60,100 new entrants (up 13.18 percent). Meanwhile the universities and research institutes enrolled 8,600 graduate students (up 43.33 percent) including 3,600 new entrants (up 20 percent).
General senior secondary schools enrolled 427,000 students (up 23.41 percent) including 168,200 new entrants (up 16.81 percent). The various secondary vocational and technical schools enrolled 49,500 students (down 12.39 percent) including 19,200 new entrants (down 16.52 percent).
Junior secondary schools enrolled 1,306,000 students (up 3.63 percent) including 453,100 new entrants (up 1.36 percent).
Primary schools enrolled 3,227,600 students (down 0.06 percent) including 572,300 new entrants (down 6.16 percent). Special education schools enrolled 7,673 students including 975 new entrants. 372,200 kids went to kindergarten
GDP
According to preliminary calculations, GDP in the province totaled some 130.1 billion yuan in 2003 (up 10.1 percent), the highest rate of growth seen in the province since 1997. Per capita GDP was 4,984 yuan (up 8.97 percent).
Value-added
In 2003, value-added within the primary industries was some 24.0 billion yuan (up 6.0 percent). Value-added in the secondary industries was 60.8 billion yuan (up 12.2 percent). Value-added in the tertiary industries was 45.3 billion yuan (up by 9.4 percent). This put the respective contributions at: primary 18.4 percent (unchanged from the previous year), secondary 46.7 percent (up from 45.7) and tertiary 34.9 percent (down from 35.9).
Industrial value-added
In 2003, total industrial value-added was some 45.0 billion yuan (up 12.9 percent). Of this, the value-added within state-owned enterprises and non-state-owned enterprises with an annual sales income over 5 million yuan came to 39.0 billion yuan (up 13.02 percent) and these enterprises returned profits of 3.1 billion yuan (up 47.44 percent). Meanwhile the output value of new industrial products was 3.6 billion yuan (up 4.21 percent).
Agricultural output
There were some 2.5 million hectares in grain in 2003. This was a decrease of 129,300 hectares (4.92 percent) on the previous year. However total annual grain output was 7.9 million tons (up 0.85 percent). The average output per mu (1 mu = 1/15 hectare) was the highest ever recorded at 210.54 kilograms.
Public revenues
In 2003, government revenues contributing to GDP were running at 17.6 billion yuan, an increase of 18.18 percent while the general planned annual revenue was 8.7 billion yuan, an increase of 15.67 percent.
Foreign trade
One after another, seventy-one of Gansu¡¯s cities and counties had opened up to the outside world. By 2003, friendly inter-city relations were in place with 13 counterparts located in Japan, the United States, New Zealand, Turkmenistan, Australia, Kazakhstan, Hungary and Russia. Export trade has developed on the strength of the province¡¯s textiles, chemicals, minerals and non-ferrous metals.
In 2003, the combined value of imports and exports was US$1.328 billion, an increase of 51.3 percent over the previous year. Exports had increased 59.9 percent in the year to US$0.878 billion, ranking Gansu with the third fastest growth among all of China¡¯s provinces and autonomous regions. Meanwhile imports had grown 37 percent to US$0.450 billion.
Exports to the most significant destinations by value were: Korea at US$240 million (up 125 percent on the year before), Japan at US$182 million (up 94.7 percent), Hong Kong at US$89 million (up 90.8 percent), the United States at US$62 million (up 84.8 percent) and Russia at US$54 million (up 31.6 percent).
Foreign investment
Gansu has established ties with the World Bank, the UN Food and Agriculture Organization, the World Food Program and the European Economic Community. With loans and other forms of aid from these institutions, the province has developed various small-scale water conservation and hydro-electric schemes and has set up medical and educational projects. The year 2003 saw a decrease in the utilization of foreign capital. While total contractual commitments to foreign direct investment (FDI) reached some US$245 million (up 22 percent), the actual utilization of FDI was US$39 million (down 25.7 percent).
Pillar industries
The pillar industries of Gansu include non-ferrous metals, electricity generation, petrochemicals, oil exploration machinery and building materials


Lanzhou
Lanzhou is the capital city of Gansu Province, located on the upper reaches of the Yellow River and at the geometric center of China's continental territory. There are 3 counties and 5 districts under the jurisdiction of the municipality with a total area of 13,100 sq.km, in which the urban area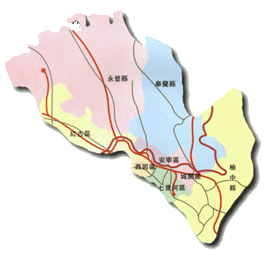 reaches 1,631.6 sq km. There are 38 nationalities dwelling here, including those of Han, Hui, Man, Tibetan, Yugu and Dongxiang, etc.Its total population has now grown up to 2.91 million, among which 1.6 million are non-agricultural residents. The city proper, with the Yellow River flowing through,is
surrounded by mountain ranges. It is a famous city in West China featuring the majestic appearance of the north and the beauty of the south. The city's economic construction and social undertakings have seen a fast growing since the opening up and economic reform started in 1979. It is putting on a new look day by day. Remarkable improvement has been made in its citizen's daily life ever since. Today, it is positioned among the 50 top cities in China in terms of comprehensive economic strength and has become one of the important economic centers in the Northwest. In the year of 2000, its GDP totals over 30 billion Yuan RMB with the GDP per capita over 10,000 Yuan and public revenue reaching 2.7 billion Yuan. The disposable income of the urban residents and the farmers' net income per capita have come up to 5,700 Yuan and 2,000 Yuan respectively.
Jiuquan

Jiuquan, or Wine Spring,is a major stopover on the "Silk Road" northwestwards from Lanzhou, capital of Gansu Province. From the second century B.C., commissioners and high-ranking officers were dispatched by the rulers of Western Han Dynasty (306 B.C.- 34 A.D.) to develop the region. As the traffic along the "Silk Road" became busier and more important, the prefecture of Jiuquan was established more than 1,600 years ago to protect this vital artery. On a triumphant expedition, as legend has it, Huo Qubing, a celebrated commander of the Western Han army, visited the town with his troops. Emperor Wudi had decreed that they feast on wine, but there was not enough to go round. Commander Huo then poured his cup of wine into a spring so that it could be shared with his soldiers. That was how the city of Jiuquan got its name.
Drum tower of Jinan, erected in 343, used to be called "Night Watchman's Tower" on the east city gate. As the Jinan expanded, it was edged into the inner city and its name was changed to "Drum Tower." It is the only remaining structure of the many Marco Polo praised in his writings.
A few miles away from the Jinan stands the Jiayuguan Pass, the western end of the Great Wall. The Great Wall used to end at Yumen (about 50 miles to the west of Jiayuguan) before the pass was abandoned during the Ming Dynasty. The walls in the northwest region were originally constructed under the Han, and remains of the Han wall have been found near Dunhuang, but the portions of the wall standing at Jiayuguan date from the early Ming, and are about six centuries old. Standing on the terrace of the gate tower, one can look back at the wall winding its way along the mountain ridges. To the south are the snow-capped Qilian Mountains, and to the west, the desert.