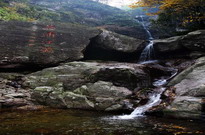 Longwang Mountain, o-ne of the Laoshan mountain ranges, acquires fame for its shape resembling a prone dragon. It covers an area of nearly 2,000 Chinese acres, with 114- meter prominent peak elevation. Longwangshan Park was constructed based o-n Longwang mountain.
The construction of Longwangshan Park was first started in 1997. Now the projects which are completed include: the 5-kilometer tourism arterial route, among which 2.5 kilometers are covered with color cement ground bricks; the 2-kilometer footpath;100KV power supply project.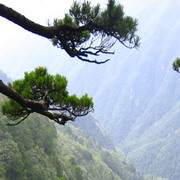 Highlights
Longwang Mountain the running water system; the new radar weather station; the front door memorial arch; the Shenlong hole; the golf practice field; the barbecue zone under the forest; the physical training base for young people; the guest homeland building that imitates Fujian Hakka building; Longwang temple; Longwang Chinese style pavilion; the vacation log cabin; the carved stone corridor and pavilion of classical Chinese literature and so o-n. There are 20,000 sorts of flowers and plants plus a 5,000 square meters lawn.